News
Headlines featuring the Northwestern University Bands.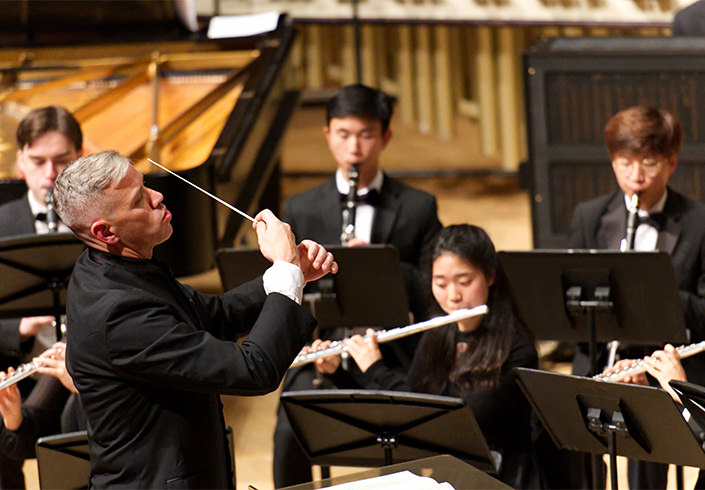 The Northwestern University Symphonic Band will perform at the North Central Division Conference of the College Band Directors National Association (CBDNA) on Saturday, February 22, at 11:15 a.m. The concert, which is free and open to the public, will be held at DePaul University's Gannon Concert Hall in the Holtschneider Performance Center.
Shawn D. Vondran, associate director of bands at the Bienen School of Music, serves as conductor of Symphonic Band. The ensemble was selected via blind audition process to perform at CBDNA along with 10 other prestigious ensembles.
Read more: Symphonic Band Selected to Perform at CBDNA Divisional Conference
In a blur of marching bands and school colors, Evanston community members gathered Sept. 12 in Fountain Square for Kits, Cats, and Kids, a pep rally-style block party celebrating city and school spirit, reports Gina Grillo from the Pioneer Press, whose story was picked up by the Chicago Tribune.
Read more: 'Kits and 'Cats Bands Featured in Evanston Day Coverage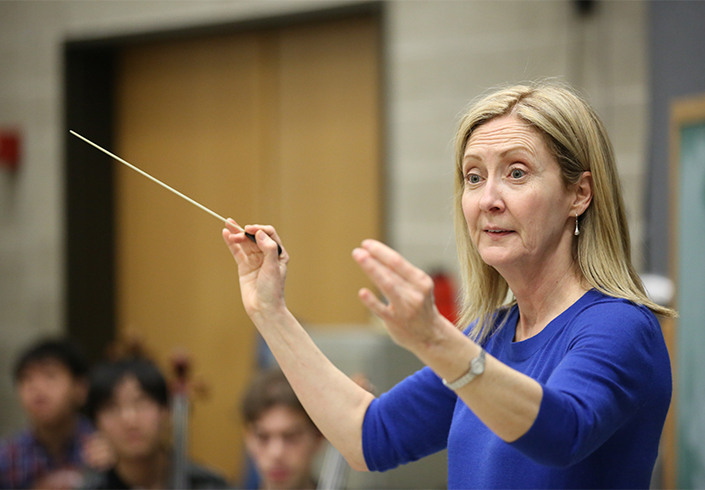 In the latest Northwestern Intersections podcast, Dr. Mallory Thompson discusses her "family" at Northwestern, including an extensive alumni network that she has cultivated for the past 23 years as director of bands. Thompson also discusses the Symphonic Wind Ensemble's 50th Anniversary Celebration.
Listen: Mallory Thompson '79, '80 MS on Making Connections & Community
The Symphonic Wind Ensemble (SWE) at the Northwestern University Bienen School of Music will commemorate the 50th anniversary of its founding with a two-day celebration June 8 and 9, culminating in a performance featuring more than 150 Bienen School alumni.
The SWE 50th Anniversary Celebration concert will be held at 7:30 p.m. Sunday, June 9 in Pick-Staiger Concert Hall, 50 Arts Circle Drive on the Evanston campus. The event is free and open to the public. A live stream of the concert can be accessed starting at 7:20 p.m. at www.music.northwestern.edu/live.
Read more: Symphonic Wind Ensemble celebrates 50th anniversary June 8 and 9
IN THE SKIES OVER KANSAS — "We should have plenty of sunshine and a real nice trip," says Daniel Farris, director of the Northwestern University "Wildcat" Marching Band.
The band, along with cheerleaders, university staff, and distinguished guests, have taken to the skies on their way to support Northwestern's football team at the 2018 Holiday Bowl in San Diego. The musicians are wide-eyed as they receive first-class service aboard the chartered 777 aircraft, complete with hot towels. The three-course lunch includes chicken parmesan or a teriyaki stir-fry, served with a spinach salad followed by frozen yogurt.